So I thought it might be time to step away from the internet for a little while and start thinking about Noah's interactions with busy boards and similar activity tables so far. I thought I could draw on ideas that I have seen and Noah has tried out.
The picture at the top of this post is of Noah at the first indoor play center he ever visited. It was a small space but they had the perfect space for older babies and young toddlers. We went to a baby gym class there a few times where Noah got to play with other babies and make some serious messes with paints, jellies, slime and paper. The busy board at this play center was actually more of a busy wall that ran all down one side of the room. In the picture Noah was playing with a bunch of shower loofahs, but there were also sections with gears, fake grass and other carpeted textures, a phone, switches, plugs and more. At this stage, Noah was more interested in feeling textures and getting whatever he could in his mouth than testing the way things work and exploring cause and effect. It's still a struggle to keep things out of his mouth and the occasional furry rug will cause a few seconds of distraction, but now that he is a few months older, Noah is more interested in buttons and things that move. That said, it might be worth including a few textured items on Noah's board to fill any big spaces.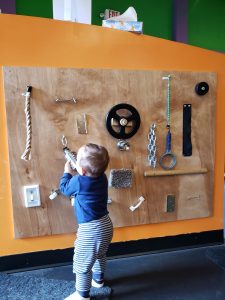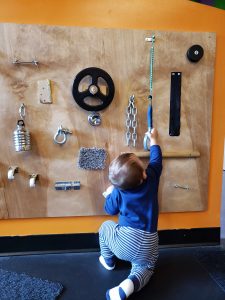 These next two images were taken at Tumblebums in Langford on Noah's first birthday. Looking at this busy board, I wouldn't think it would be that exciting for kids. There isn't much colour and the items are simple and widely spaced, but this busy board is a big attraction, even for kids up to about 4 years old. Noah is always drawn to it when we go to Tumblebums. Maybe there is a link here to what we have been learning about in our literacy class. We have discussed the Reggio Emilia approach and have specifically looked at how this approach looks at wall space and visual input from the classroom.  In specific, this approach suggests that we shouldn't overwhelm children with bright primary colours and clutter on the walls, but instead keep things neutral unless there is a meaningful reason to highlight something. This is related to creating a space that is conducive to learning and allows students to use the room and environment as a third teacher. I doubt that Tumblebums is trying a Reggio approach here, but there is something to be said about how, in a room full of colour and toys, this simple wooden board with everyday items attached to it is the big hit. Many of Noah's toys at home are typical toys; they are brightly coloured, made of plastic and make loud screechy children song noises at you. It's very possible that a more simplistic board like this allows Noah to play and explore without being too over-stimulated.
There are a few things in particular that Noah likes on this busy board. He loves the magnifying glass that is attached to a bungee cord, the metal bottle (mostly to put in his mouth) and the handles.
There is also a cubed activity table at this play space. I tried to get Noah to play at it, but he was not interested. I think that means my idea of making a cubed busy board is going out the window.
Noah also received this activity cube for his birthday: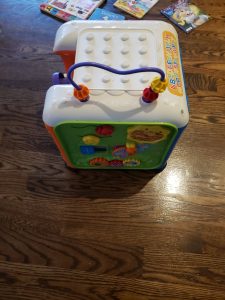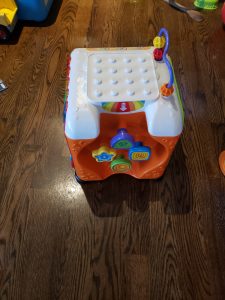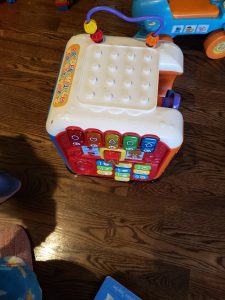 So far, just like all the other cubed activity tables, it hasn't been a huge hit, but I'll keep it out a little while longer and see if his interest grows.
So my takeaways:
Make it a board not a cube
keep it simple, a lot of colour and toys are not necessary
Include a bungee cord and magnifying glass
include some form of handle
Include objects on ropes
Finally, I saw this little barn play set up at the Greater Victoria Library downtown. I haven't taken Noah there yet, but I've taken some pictures to remind myself to take him there. He is loving animals at the moment and I think he might enjoy this little center.